Need to work on your time-trialing skills? Want to know the secrets to going really fast in a gnarly head wind? Contra la Montra will get you there, fast!
Time Trialing for Bike Racers and Triathletes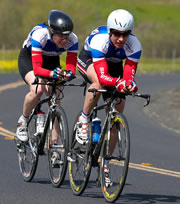 Whether your goal is the District TT or you're training for triathlon Nationals, you can benefit from the CLM TT camp in time for your race. The camp covers everything needed to race against the clock:
Position
Tactics
Training
Nutrition
Flexibility
Equipment
Pacing
Strength
Warm up
The 411 on Contra la Montra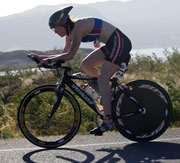 Date: Friday, March 16-Sunday March 18
Contra la Montra takes place at SportVelo in Menlo Park over three days, Friday, March 16 through Sunday, March 18. Each day offers lectures and demos (with athlete participation), plus plenty of training, and Coach Dan will lead all rides. All CLM TT campers will race the Beat the Clock TT on Canada Road on Saturday, March 17, and we will have lots of pre-race instruction plus post-race debriefing. (Triathletes will complete a brick run while the road racers compete in the TTT.)
This is a week before Pinole TTT, and a couple weeks before the first triathlons of the season. Due to the specialized content of the camp, participation is limited so we can focus on each individual.Priority is given to SportVelo athletes.
Breakfast, lunch, and workout food are included every day. Massage therapists will be available (paid directly to the therapist). All participants are required to sign up in advance for the Beat the Clock TT
Please RSVP by March 1!