Cyclocross Racing Report
Race reports from Ted Burns, SportVelo athlete since 2006.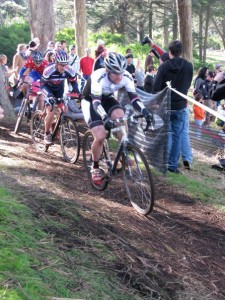 Race: Bay Area Super Prestige #3 Coyote Point
Category: 35 As
Place: 23/50ish starters
Teammates: Solo
BB abandoned me since he had some fancy dinner to go to. He has no sense of priorities. The night race is the shit. It's got crowds, lights, and the course is wicked stupid (ie. fun.) This year they added in some new road sections to make the laps longer. Other than that its dark, lots of 180s, and a great bmx dirt section.  I barely got a call up since they used the previous races results. I got a horrible start, totally missed my pedal, but was able to recover, but was about 50th and as we went into first corner which required a curb hop riders started stacking up. I took a risk, went inside, a rider started to go in front of me, so i went further inside, i started pin-balling off some guys and emerged intact, in the top 20, going into the next section where the road started. This is where it started to go bad.  I had kept my tire pressure low which really hurt me on the road section. I immediately started losing ground on the 200 meter sections with 180s and could not stay in touch with the leaders. I as able to keep pace on the technical sections but lost it on the road, which i assume was due to too low pressure or poor fitness. Anyway.. that was the pattern, i would ride fine then lose a few places in the straight, and catch a few guys that were fading.