Rebecca Werner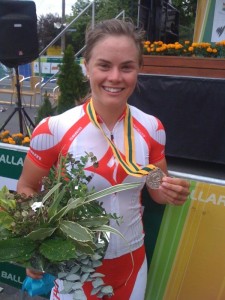 In 2011 Rebecca made the commitment to self fund a 6 month trip to the US to race with the Webcor Bridge Team, gaining invaluable experience and producing some notable results.  On returning to Australia, Rebecca has been an integral founding member of the Specialized Women SA Team, while also working for the Specialized Concept Store in Adelaide. Meanwhile on the bike she has excelled, finishing 2nd at the recent U23 Road Nationals, before achieving possibly her most notable result to date, winning the opening stage of the Santos Women's Cup against the professional Green Edge team, and holding the leaders jersey for 2 stages.
In 2012 Rebecca will be returning to the Bay Area, California, to compete is selected races under the guidance of Coach Dan Smith from SportVelo.
MaryAnn Levenson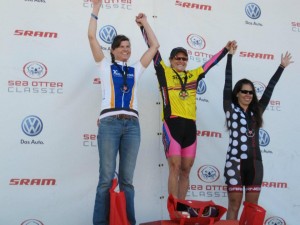 What a comeback story! MaryAnn is an inspiration reminder for the rest of us to HTFU and ride. MaryAnn began her cycling career as a strong mountain biker with Championship dreams. After having three boys, MaryAnn's career was sidetracked for a while, but she came back strong as category 2 with National level racing plans and strong local placings. Nevertheless, MaryAnn's progress was again stymied after she was run over by a drunk driver in a pickup truck in 2006. Needless to say, we are very lucky to have MaryAnn here today. After dozens of surgeries, MaryAnn is discovering her niche as a time trialist, which complements her "never give up" attitude. In 2009 MA took a silver medal in the time trail at Master's Nationals.
This season MaryAnn first won the 40K state time trial championship setting a National Record in the process!  Then with literally 1 day on her new track bike she took the state pursuit championship, and then topped her impressive season with a national championships in the individual pursuit. In addition to her standout 2010 palmares, MaryAnn is a vocal advocate for bike safety, and she runs bike safety programs in elementary schools.
Ethan Sopenski
After dabbling in triathlon, and participating in 2 'rides across America', in late 2010 Ethan made the big move – to California, and to competitive cycling. Teaming up with Coach Dan Smith, he has progressed in leaps and bounds, upgrading to a Category 2 racer in under a year, and proving that he'll be a serious force to be reckoned with in the not too distant future.
In 2012 Ethan will participate in his first U23 National Championships, testing his all round abilities against the best in the nation, with lofty goals of a top 10 placing.
- Valley of the Sun SR, E3 7th on GC
- Madera County SR, E3 7th on GC
- Chico SR , P1/2 15th on GC
- Copperopolis RR, P1/2 13th
- Cat's Hill , P1/2 22nd