Maddie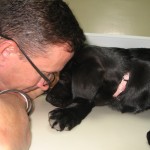 Named after the Col du Madeleine, Maddie came to us as a puppy from Lab Rescue, supposedly as a purebred black lab. Instead of a full lab, Maddie turned out to be the fastest, quickest dog in the dog park. Barely 50 pounds, she is tall and skinny with fine bones. Lab? Supermodel? You decide! She doesn't care what she is, she just wants to snuggle. And chase balls in the dog park.
Magnus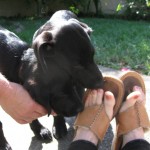 Magnus is perfectly named for this Catahoula pup whom the vet suspects will be 90 pounds. We are entirely confident that he will be huge, given the rate that the couch is disappearing as he chews the upholstery. He and Maddie are best buds, but Magnus is truly the shop dog who loves to hang out with the mechanic.
Eddy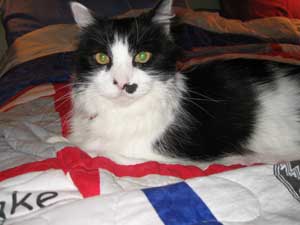 Our most recent rescue from the humane society, Eddy is all attitude. He just discovered the great outdoors, but he's really a lap cat. He tolerates the dogs, but prefers to take a swat at them every so often to keep them in their places.