Each month, SportVelo offers in-depth workshops on a variety of relevant and timely subjects, ranging from winter training to local races, cornering, tactics, and even using Power-specific software. Coach Dan kicks the discussion off with a few slides, and then addresses questions from the participants.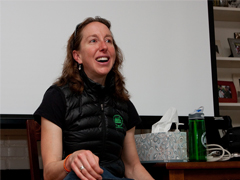 The workshops are another opportunity for athletes to ask the coach questions in an organized, group environment, and learn both from the coach and from other athletes.
These monthly workshops are free to SportVelo athletes and $15 to all others. RSVP required. Snacks and drinks are provided.